Hi, Folks,
This is a long-pending book review of an e-book. As you all know, I neither review e-Books nor read. Yes, call me old school! But, this book is special for two reasons. Firstly, the author of this book is a really close friend and one of the best colleagues I ever had! Seriously, the office is not the same since you left (KP, don't give a blunt reply for this in comments below). Secondly, I was an immediate reader as and when he wrote something for this book. Yes, as and when he wrote a short story or an episode he sent to our gang of friends for review, critic, and feedback (all 3 are the same, he he he). So, yeah, once when the final copy was ready, I gave it a read again. Did I like the book? Did I not? Well, read on!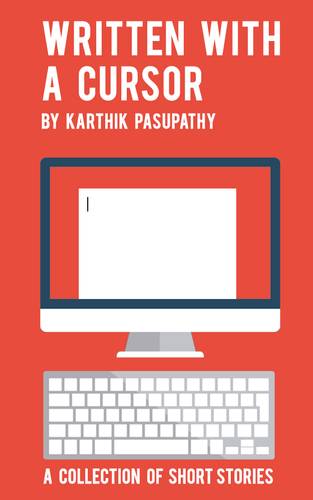 Book Blurb:
'Written with a cursor' is a collection of ten short stories that spans across different genres. The book that starts with a conversation between the author and his text cursor, takes the reader on a wild ride. Be it the story of how a seventy-year-old starts his own e-commerce business, or the curiosity of a man who wants to know what was inside the hidden closet in his office, the book provides a short, but refreshing read for its readers.
My Take On The Book:
Short stories are super nice to read. Be it emotional drama or a comical skit, if its shorter we are more enthusiastic to read it. However, short stories are difficult to write. The author needs to pen all his thoughts, tie all the loose ends, and still maintain the word count. It needs a special talent. Not every novelist can be a good short story writer. Karthik seems to have mastered the art of short story telling. Each of the 10 short stories in this book is a gem. The most interesting part of the stories are that they are not connected: neither in genre nor in characters. You feel like reading a series of stories that are way different from each other.
WOWS:
1. Stories – The main strength of a short story lies in its interesting plot. Each story is interesting in this book.
2. Writing Style – Not many Indian authors write in a way that is neutral to Indian and International readers. The first time I read Karthik's stories, I felt that it was perfectly sculpted for universal readers.3. Situational humor – Not all the stories in this book are comical, but there is bits and pieces of situational humor spread across. Some may make you laugh, some would make you giggle, and some can make you chuckle (all three are different, and read the book to know it!)
OOPS:
1. Not much of OOPS moments in this book. However, I would suggest that as narration goes a little away in a couple of stories, more careful editing and couple of more proofreading would make the book completely flawless.
Do I recommend? YES!
Rating: 4/5
Bottom line: A light-read book that lingers for so long in your memories – Just like a good cup of coffee.
Oh wait, Karthik was sweet enough to offer my blog readers 50% off (yeas! 50% off) on his e-Book, so do buy it using by clicking here: I AM S(T)RI READER. After 50% discount the book comes for Rs. 43, which is less than a good cup of cappuccino and a little high than a strong cup of filter coffee, so why not buy it?
Let me know how the book was in the comments, below.
The author is my close friend, and he gave me the book for Beta-Reading. However, this is an completely unbiased review.
~Cheers,
Stri
If you haven't yet followed or liked me over Blogovin|IndiBlogger|Facebook|Instagram|Twitter|YouTube– then please do it, it will make my day!